Orchard Creek
Tournaments & Outings
Albany Golf
Tournaments & Outings
Orchard Creek Golf Club is pleased that you are considering our facility for your upcoming event. Our staff is committed to providing your group with a memorable golfing experience.
Orchard Creek will offer weekday and weekend/holiday golf packages for your consideration. If your group would like something which is not included in our event package, please call to discuss your organization's needs.
Take pictures of all your groups using Photocard Day.  Your groups will be able to take the picture home the same day.  Very reasonable rates for your organization. Click on photocardday.com
To enhance the quality of your event, special merchandise/ awards are available. Orchard Creeks logo as well as business/organization logo's can be applied to the following examples; logo balls, shirts, hats, umbrella, leather products and artwork. With adequate ordering time, your event can take on individual quality that sets you apart from the average tournament.
Please complete and return the following request as soon as possible. All requests will be reviewed for approval upon receipt. You will receive confirmation of your outing upon receipt of a 15% deposit. Requests will be honored on a first deposit received basis.
Your signature on the request indicates that you have read, understood and agreed to all fees, course rules and requirements for your outing. If you have any questions do not hesitate to contact our Golf Staff.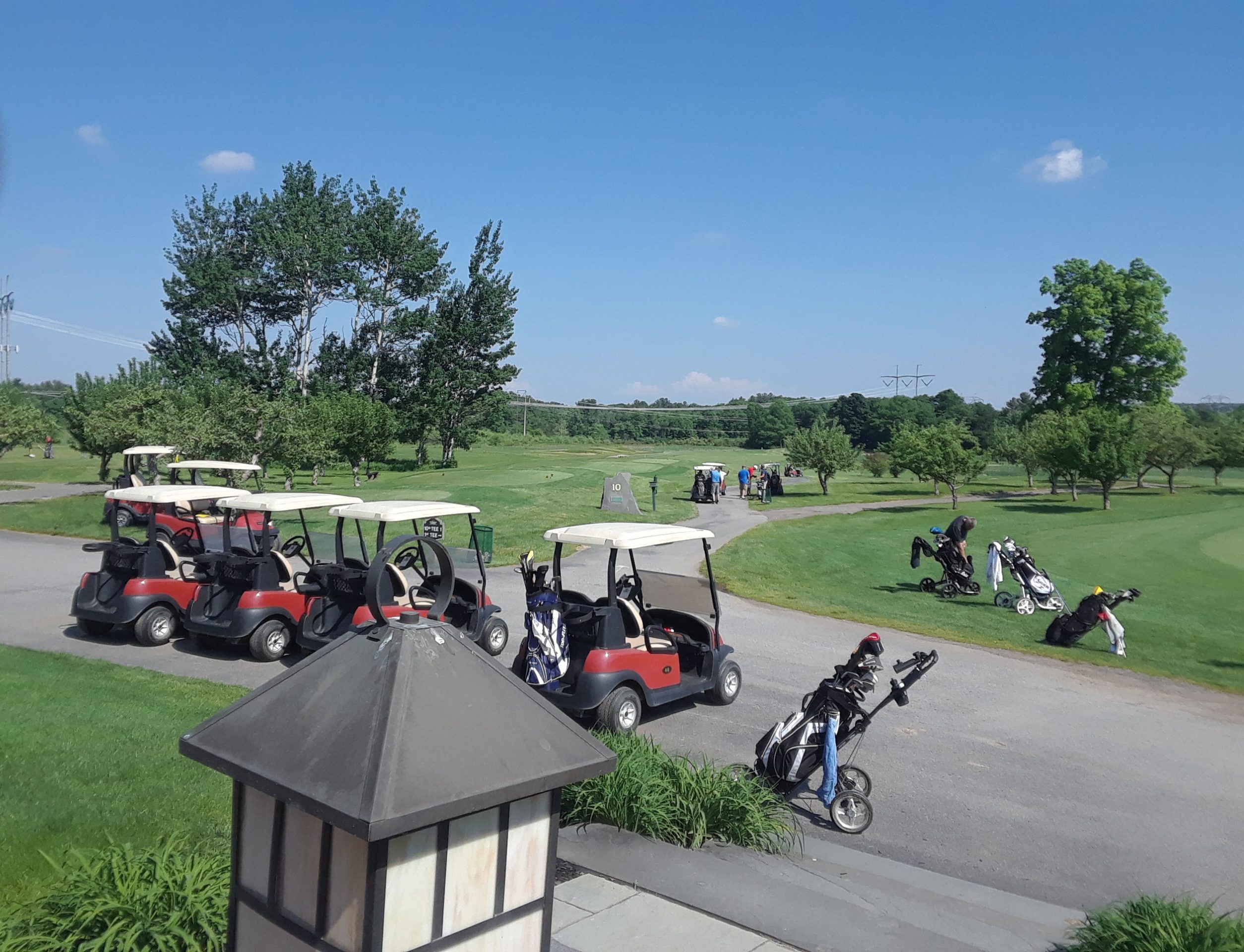 BREAKFAST AND LUNCH SELECTIONS
Coffee bar
Unlimited freshly brewed and decaf coffee, tea, cream and sugar.
4
Continental Breakfast
A selection of bagels and pastries, fresh fruit, coffee, tea and juice.
6
Breakfast Buffet
Scrambled eggs, French toast, bacon, breakfast sausage, home fries, assorted breakfast pastries, juices, fresh fruit, coffee & tea.
10
Lunch at the Turn
Each golfer receives (1) hot dog, chips and a 12 oz. soda or domestic draft beer..
7
Boxed Lunch
Each golfer has a choice of: turkey, ham and Swiss or chicken salad sandwich.
Your choice includes chips, fruit and a 12 oz. soda or domestic draft beer.
12
Lunch Buffet (CHOICE OF TWO)
Your choice of hot dogs, burgers or sausage and peppers served with a pasta salad and Saratoga Chips.
12oz. soda or domestic draft beer.
14
DINNER SELECTIONS
Appetizers
Enhance the packages below with a cheese and vegetable display, buffalo chicken wings, sesame chicken bites and peel & eat shrimp.
6
1/2 Chicken Dinner
Marinated and charcoal grilled 1/2 chicken, two side salads, cornbread, baked beans & corn
20
Chicken & Rib Combo Dinner
BBQ chicken and baby back ribs, two side salads, cornbread, baked beans & corn
24
Steak and Clam Bake
A 10 oz. sirloin filet, steamed clams, served with salt potatoes, vegetables, rolls and salad.
Market price
Dinner buffet menu (click here)  Please call Kevin for a special quote. (518) 861-5000 ext. 203
email: kevin@orchardcreek.com
Prime Rib Dinner
…with potato, vegetable, rolls & salad. (min. of 15 dinners)
26
Unlimited soda, coffee and tea with dinner
2
Assorted Cookies
A plate of assorted, freshly baked cookies served on each table with coffee or tea.
2
Dessert Table
An assortment of freshly baked desserts with coffee or tea.
5
We can normally accommodate any special requests or other menu offerings.
BEVERAGE SELECTIONS
½ Keg Domestic Beer
285
½ Keg Imported or Specialty Beer
325
¼ Keg Domestic Beer
195
20 oz. Soda & Water Bottles by the Case
40
8% NYS Sales Tax and 20% service charge will be added to all food and beverage totals.
For questions or additional information, please call Kevin @ (518) 861-5000 x 203